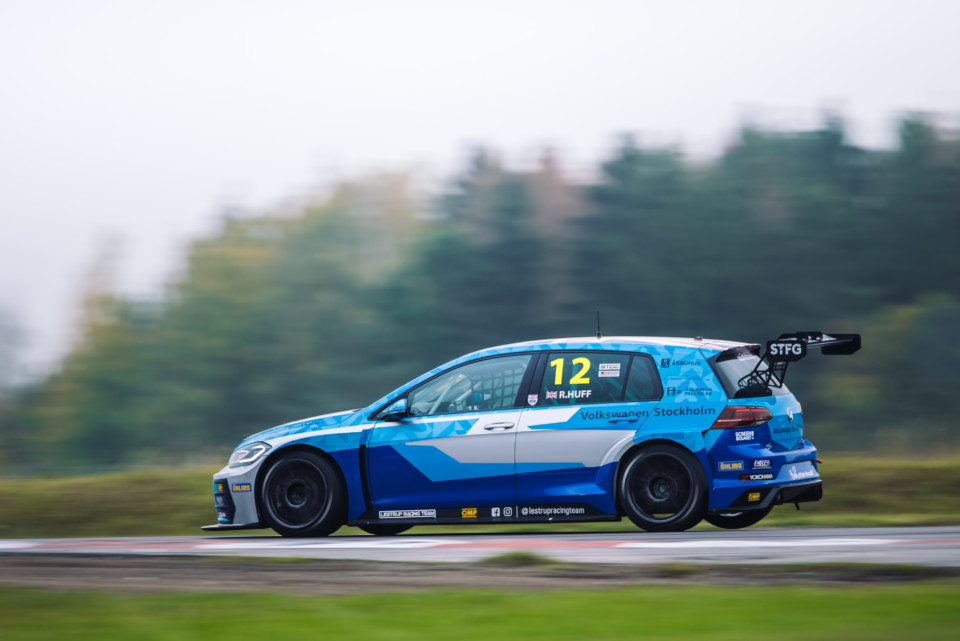 Lestrup Racing Team drivers Rob Huff and Oliver Söderström are headed for an intense STCC TCR Scandinavia season finale at Knutstorp in the south of Sweden this weekend.
Rob Huff is just 14 points from championship leader Tobias Brink with three races and a total of 80 points up for grabs in the final race weekend of 2020.
"I am closer to the points lead than I was ahead of the previous race. We know that the last race at Knutstorp is definitely a circuit that should suit the Volkswagen well. Our rivals will have some ballast which will obviously not help them very much. I'm really excited to take a big fight to the last race," said Rob Huff.
The 2012 WTCC champion will carry 10kg of compensation weight this weekend while Tobias Brink will carry 60kg.
Team-mate Oliver Söderström had a tough weekend in the previous race at Mantorp Park but is still in contention for the junior title, trailing Hannes Morin by 39 points.
"I've already forgotten the weekend at Mantorp Park and my full focus is on the season finale. The goal is obviously set on the titles and we need to work together smartly to make it happen. I feel more than ready for this!" said Oliver Söderström.
The fight for the team title is extremely close ahead of the finale, with Lestrup Racing Team just 14 point from current leaders Brink Motorsport.
"We're heading to Knutstorp with our sights set on the very same thing that we've had all year, to claim all three titles. It will by no means be easy, but that's why we're in it. We wouldn't be here if it was easy. I've got full confidence in Rob, Oliver and everyone in the team. The time for us to deliver is now," said Fredrik Lestrup, co-owner of Lestrup Racing Team.
The season finale weekend starts on Friday with testing and qualifying, followed by the final three races of the season on Saturday.
Follow the final races LIVE via STCC+ for 125 SEK this weekend: plus.stcc.se
Schedule – Knutstorp
Friday October 9th
09:00 – Test 1 – 30 min
13:10 – Test 2 – 30 min
16:35 – Q1 – 20 min
17:00 – Q2 – 10 min
Saturday October 10th
10:35 – Race 1
14:10 – Race 2
15:35 – Race 3
Driver championship standings
1 Tobias Brink 153 points
2 Rob Huff 139 (-14)
3 Robert Dahlgren 136 (-17)
4 Oliver Söderström 90 (-63)
4 Hannes Morin 90 (-63)
6 Emil Persson 77 (-76)
7 Mattias Andersson 71 (-82)
8 Andreas Ahlberg 63 (-90)
9 Mikaela Åhlin-Kottulinsky 57 (-96)
10 Mikael Karlsson 53 (-100)
11 Magnus Gustavsen 15 (-138)
12 Albin Wärnelöv 4 (-149)
13 Isac Aronsson 3 (-150)
Team championship standings
1 Brink Motorsport 243 points
2 Lestrup Racing Team 229 (-14)
3 PWR Racing 193 (-50)
4 Kågered Racing 1 140 (-103)
5 Honda Racing Sweden 71 (-172)
6 Kågered Racing 2 53 (-190)
7 Brovallen Design 16 (-227)
8 Experion Racing 4 (-239)
9 Isacs Racing 3 (-240)
Junior championship standings
1 Hannes Morin 197 points
2 Oliver Söderström 158 (-39)
3 Magnus Gustavsen 120 (-77)
4 Isac Aronsson 58 (-139)