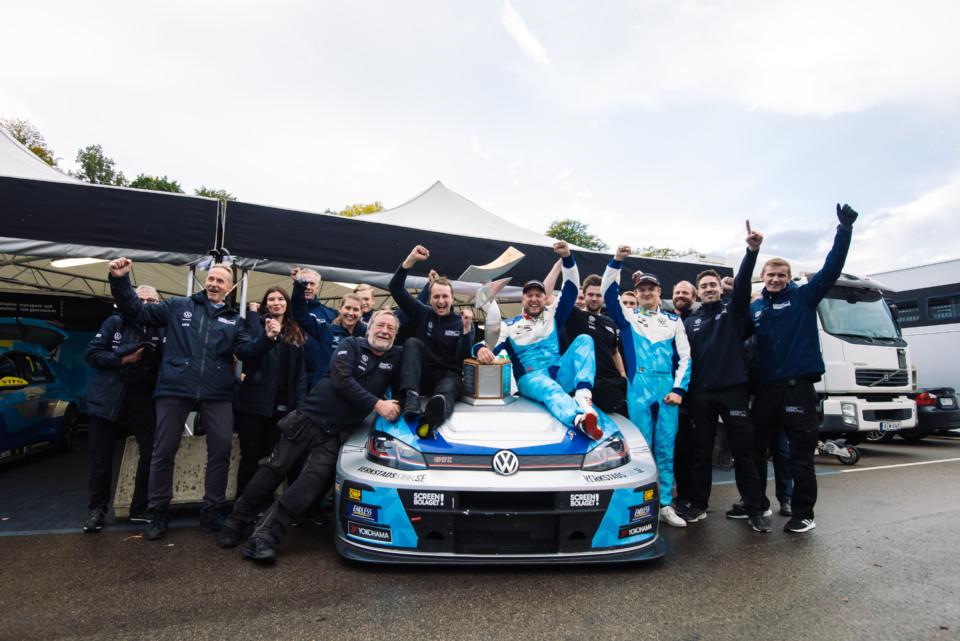 Rob Huff claimed the 2020 STCC TCR Scandinavia drivers' title and Lestrup Racing Team the teams' title after an extremely close season finale at Knutstorp.
The Volkswagen Golf GTI TCR driver was on equal points with last year's champion and title rival Robert Dahlgren ahead of the final race. The Brit managed to fight his way from seventh on the grid to win the race, his second win this weekend.
"This is just crazy! What a day, what a win! Huge thanks to Lestrup Racing Team, without these boys and girls it could not have been done," said Rob Huff.
"I got myself in a good position in the final race and stayed there. I was able to control the race and claim my second win of the weekend. It's been a tough year and this is such a great reward for everyone in the team."
Lestrup Racing Team beat last year's team champions Brink Motorsport by 22 points after what has been only the second year for the team in the championship.
"I am incredibly proud over everyone in the team. We managed to secure the STCC titles for drivers and team in only our second season in the STCC," said Fredrik Lestrup, co-owner of Lestrup Racing Team.
"We have fought through a lot of problems this year and when it really mattered, everyone has delivered to 110%. Rob drove amazingly well today and throughout the entire season, he is definitely a worthy champion. A massive thanks to all the partners and supporters to the team, this result wouldn't be possible without them. The plan is to be back next year to defend our titles."
Oliver Söderström had a tough season finale weekend, finishing second in the junior championship and fifth in the drivers' championship.
"The outcome for me personally is obviously something I am not happy over. But I am extremely happy for Rob and for the team. We secured the team championship together and that is what I will carry with me for next year. And trust me, I won't settle for fifth place next season," said Söderström.
Knutstorp results
STCC – Race 1
STCC – Race 2
STCC – Race 3
Final driver championship standings
1 Rob Huff 209 poäng
2 Robert Dahlgren 202 (-7)
3 Tobias Brink 184 (-25
4 Hannes Morin 111 (-98)
5 Oliver Söderström 108 (-101)
6 Mattias Andersson 97 (-112)
7 Emil Persson 96 (-113)
8 Andreas Ahlberg 87 (-122)
9 Mikaela Åhlin-Kottulinsky 79 (-130)
10 Mikael Karlsson 53 (-156)
11 Magnus Gustavsen 15 (-194)
12 Albin Wärnelöv 10 (-199)
13 Kevin Engman 9 (-200)
14 Isac Aronsson 5 (-204)
15 Daniel Haglöf 4 (-205)
16 Poker Wallenberg 0 (-209)
Final team championship standings
1 Lestrup Racing Team 317 poäng
2 Brink Motorsport 295 (-22)
3 PWR Racing 281 (-36)
4 Kågered Racing 1 183 (-134)
5 Honda Racing Sweden 97 (-220)
6 Kågered Racing 2 53 (-264)
7 Brovallen Design 23 (-294)
8 Experion Racing 10 (-307)
9 Isacs Racing 5 (-312)
10 Poker Racing For Charity 4 (-313)
Final junior championship standings
1 Hannes Morin 266 poäng
2 Oliver Söderström 186 (-80)
3 Magnus Gustavsen 120 (-146)
4 Isac Aronsson 109 (-157)