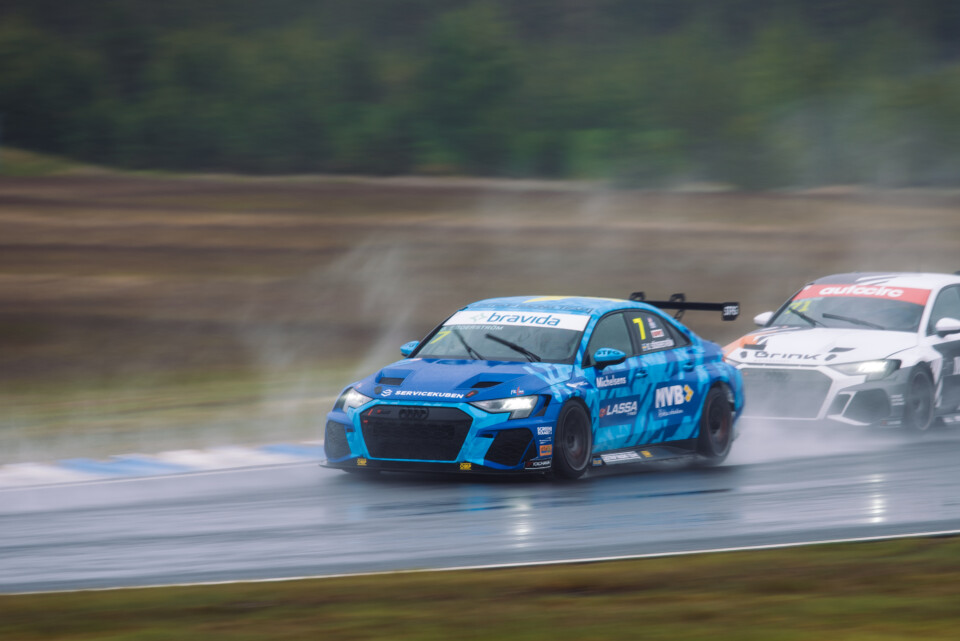 Lestrup Racing Team drivers Oliver Söderström and Andreas Bäckman claimed three podium finishes in an eventful and very wet STCC TCR Scandinavia race day at Skellefteå in the north of Sweden.
Oliver Söderström continued his impressive string of consistent results, finishing third in the final two races and has not finished below fourth position so far this year.
"We've had a solid weekend in total with strong points and two podiums, which should have been three. I don't agree on the jump start penalty withdrawal for Hugo Nerman. But that's not for me to judge and I'm excited to head for my home race at Knutstorp next up where I hope to bag even more points," said Oliver Söderström.
The Audi driver was set for a podium finish in the first race as rival driver Hugo Nerman was disqualified for jumping the start, only for the stewards to retract the penalty after the race – demoting Oliver Söderström to fourth.
Andreas Bäckman claimed his first podium finish for Lestrup Racing Team in the first race with a third place finish.
And the Swede looked set for another podium finish in the third race, fighting for second place with Tobias Brink, when unfortunately one of his tyres blew with just two laps left.
"I had a bit of bad luck in the races today, but the speed was there – especially in race three. The puncture was a shame, but still a lot of positives to bring with me from this weekend. A huge thanks to the team for the support and the progress that we have made since the first race," said Andreas Bäckman.
Oliver Söderström is placed third overall and holds a joint junior championship lead with Hugo Nerman, while Andreas Bäckman is placed sixth overall.
Lestrup Racing Team is currently placed third in the teams' standings, just 16 points from Brink Motorsport.
"I'm proud over the result that the team, Oliver and Andreas have been able to secure, especially considering the race against time that we've had with our new cars. With that said, I definitely think we had the potential to leave with a stronger result than this. But the speed is there and we are going to work hard to capitalise better on this for the coming round at Knutstorp," said Fredrik Lestrup, team co-founder.
The next STCC TCR Scandinavia race takes place at Knutstorp in the south of Sweden on July 22-23.