Rob Huff keeps title fight alive in challenging Mantorp Park weekend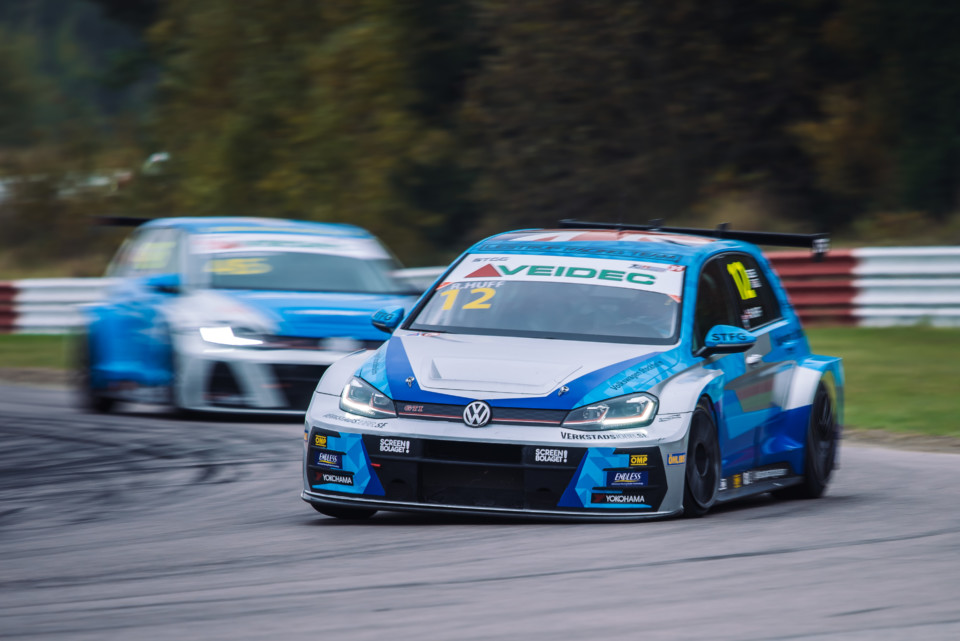 Lestrup Racing Team driver Rob Huff is within reach of the STCC TCR Scandinavia points lead after the penultimate round of 2020 at Mantorp Park.
The 2012 world champion claimed two second place finishes and is 14 points behind Audi title rival Tobias Brink.
"Considering that this is definitely an Audi circuit, I am really pleased with our performance. I'm also pleased to be second in the championship and closer to Brink than what I was to Dahlgren ahead of this weekend. We know that the last race at Knutstorp is definitely a circuit that should suit the Volkswagen and our rivals should have some ballast which will obviously not help them very much. I'm really excited to take a big fight to the last race," said Rob Huff.
Team-mate Oliver Söderström meanwhile had a nightmare weekend with two retirements and has dropped to fourth position in the championship, 63 points from the lead with 80 points remaining in the season finale.
The 22-year-old is still in contention for the junior championship title fight, trailing Hannes Morin by 39 points.
"We had the opportunity to fight for the title, especially after the strong qualifying yesterday. Now I just want to forget it all. There are some positive things from the weekend, qualifying was one of my best performances ever. This is racing sometimes and now I just want to do my very best in the final and try to claim a victory," said Oliver Söderström.
Lestrup Racing Team is 14 points behind Brink Motorsport in the team championship standings ahead of the Ring Knutstorp season finale next weekend on October 9-10.
"Rob had a strong weekend and we're very happy that he is right in the mix for the drivers' title fight. The results for Oliver was unfortunate, especially as he continued to deliver really strongly, and we need to analyse the issues closely. But we are far from giving up, there is still a quarter left of the season and our competitors are going to have bad weekends as well. Our goal is still to win all three championships. It's a quick turnaround for Knutstorp, but we are going to reload and make the very best out of a circuit that should suit us well," said Fredrik Lestrup.
The 2020 STCC TCR Scandinavia season finale will be broadcast live on STCC+ where this weekend's races are available as well: plus.stcc.se
Driver championship standings
1 Tobias Brink 153 points
2 Rob Huff 139 (-14)
3 Robert Dahlgren 136 (-17)
4 Oliver Söderström 90 (-63)
4 Hannes Morin 90 (-63)
6 Emil Persson 77 (-76)
7 Mattias Andersson 71 (-82)
8 Andreas Ahlberg 63 (-90)
9 Mikaela Åhlin-Kottulinsky 57 (-96)
10 Mikael Karlsson 53 (-100)
11 Magnus Gustavsen 15 (-138)
12 Albin Wärnelöv 4 (-149)
13 Isac Aronsson 3 (-150)
Team championship standings
1 Brink Motorsport 243 points
2 Lestrup Racing Team 229 (-14)
3 PWR Racing 193 (-50)
4 Kågered Racing 1 140 (-103)
5 Honda Racing Sweden 71 (-172)
6 Kågered Racing 2 53 (-190)
7 Brovallen Design 16 (-227)
8 Experion Racing 4 (-239)
9 Isacs Racing 3 (-240)
Junior championship standings
1 Hannes Morin 197 points
2 Oliver Söderström 158 (-39)
3 Magnus Gustavsen 120 (-77)
4 Isac Aronsson 58 (-139)