Lestrup Racing Team in the top fight of ultra-close STCC finale qualifying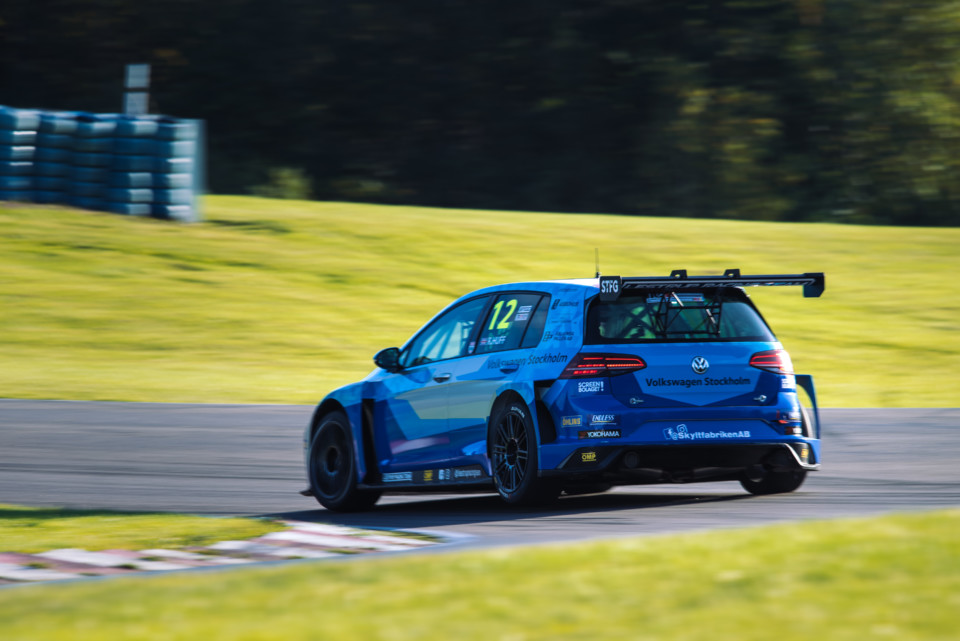 Lestrup Racing Team drivers Rob Huff and Oliver Söderström were right in the middle of an ultra-close STCC TCR Scandinavia qualifying session for the season finale at Knutstorp.
2012 WTCC champion Rob Huff was just 52 thousands of a second from pole position in the first qualifying session with second place and claimed fourth position in the second session.
"I'm quite happy with the Q1 time but got tyre vibrations in Q2 which cost us a few tenths. But it could have been much worse and I'm in fighting spirit for the races. We're close to Dahlgren and Brink on the grid and I've got my trusty team-mate alongside me. The weather could play a big role tomorrow as rain is expected, it's going to be exciting," said Rob Huff.
Oliver Söderström was fastest of the two Volkswagen Golf GTI TCR drivers in the second qualifying session with third position, less than three tenth from the Race 2 pole position.
"I had a really good qualifying session and I'm pleased to be so close with Rob. We had a really good car and I think we have an even better race car for tomorrow. I'm really looking forward to the races and I think we can make up some places," said Oliver Söderström.
Rob Huff received two points for fourth position in the Q2 session and shares second place with Robert Dahlgren, 14 points from points leader Tobias Brink ahead of tomorrow's three final races of the 2020 season.
Lestrup Racing Team is just 14 points from current leaders Brink Motorsport in the team championship and Oliver Söderström is 39 points from junior championship leader Hannes Morin.
Follow the final races LIVE via STCC+: plus.stcc.se
Results
Qualifying 1
Qualifying 2
Schedule – Knutstorp
Saturday October 10th
10:35 – Race 1
13:30 – Race 2
15:35 – Race 3
Driver championship standings
1 Tobias Brink 153 points
2 Rob Huff 139 (-14)
3 Robert Dahlgren 136 (-17)
4 Oliver Söderström 90 (-63)
4 Hannes Morin 90 (-63)
6 Emil Persson 77 (-76)
7 Mattias Andersson 71 (-82)
8 Andreas Ahlberg 63 (-90)
9 Mikaela Åhlin-Kottulinsky 57 (-96)
10 Mikael Karlsson 53 (-100)
11 Magnus Gustavsen 15 (-138)
12 Albin Wärnelöv 4 (-149)
13 Isac Aronsson 3 (-150)
Team championship standings
1 Brink Motorsport 243 points
2 Lestrup Racing Team 229 (-14)
3 PWR Racing 193 (-50)
4 Kågered Racing 1 140 (-103)
5 Honda Racing Sweden 71 (-172)
6 Kågered Racing 2 53 (-190)
7 Brovallen Design 16 (-227)
8 Experion Racing 4 (-239)
9 Isacs Racing 3 (-240)
Junior championship standings
1 Hannes Morin 197 points
2 Oliver Söderström 158 (-39)
3 Magnus Gustavsen 120 (-77)
4 Isac Aronsson 58 (-139)