Oliver Söderström and Rob Huff fights to a qualifying 1-2 for the STCC season opener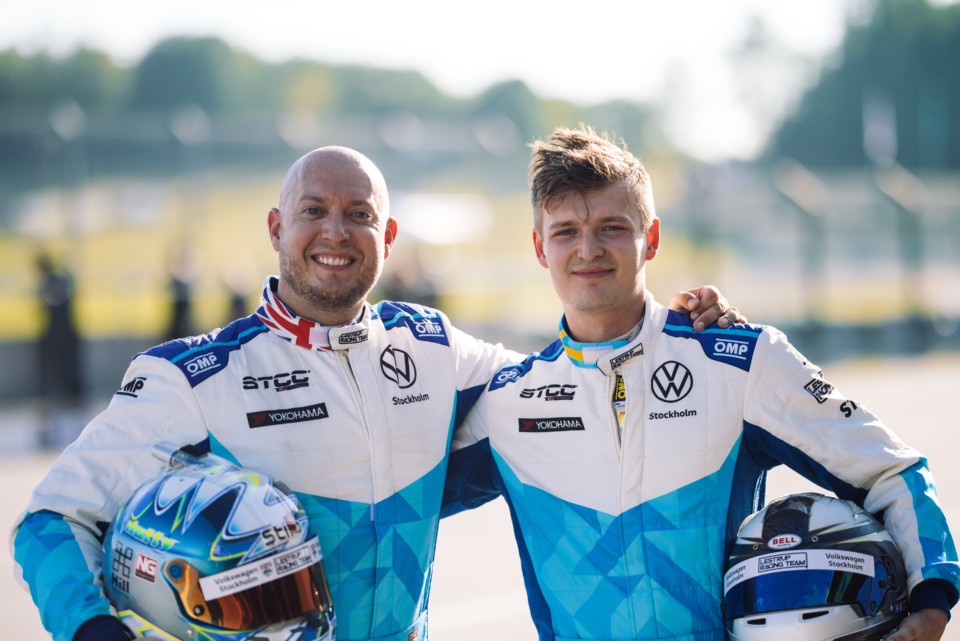 Lestrup Racing Team drivers Oliver Söderström and Rob Huff fought back to a 1-2 in the first STCC TCR Scandinavia qualifying session of 2020 at Gelleråsen Arena as the team fought technical issues.
"It feels quite nice to be able to say that I have claimed an STCC pole position, it is definitely a tick in the box," said Oliver Söderström.
"I wanted to challenge for the top in the second qualifying session as well, but unfortunately I lost a wheel and had to park the car. I want to win tomorrow of course, but I have to be humble as there are so many good drivers in the championship."
Rob Huff claimed second position in the first qualifying session (Q1) and third in the second (Q2) qualifying session and was a happy man.
"I'm unbelievably happy with the result considering that the team has worked 24 hours a day for the last two weeks and that we had to change engine just before qualifying," said Rob Huff.
"To give the team a reward with second and third, it's not the best we could have done, for sure. But with what we have handled for the last two weeks, I'm really pleased for myself and for the team."
The start of the STCC premiere week began with technical issues and the team fought hard to secure a perfect car for Rob Huff ahead of qualifying.
"Rob and Oliver have delivered a fantastic result under immense pressure and I am so proud of them and everyone in the team that have fought so hard to get where we are now," said Fredrik Lestrup, co-owner of Lestrup Racing Team.
Oliver Söderström was fastest in the first qualifying session and will start from pole in the first race with team-mate Rob Huff right behind in second place, setting the positions for the second race.
Rob Huff was third fastest in the second qualifying session while Oliver Söderström was sixth fastest as he had to abort his second attempt when a wheel came loose.
Championship points are awarded for the top five drivers of the second qualifying session, meaning that Rob Huff has secured three points so far.
The first race of the season opener weekend at Gelleråsen Arena starts at 11:10 CEST tomorrow August 16th and can be watched live at: https://plus.stcc.se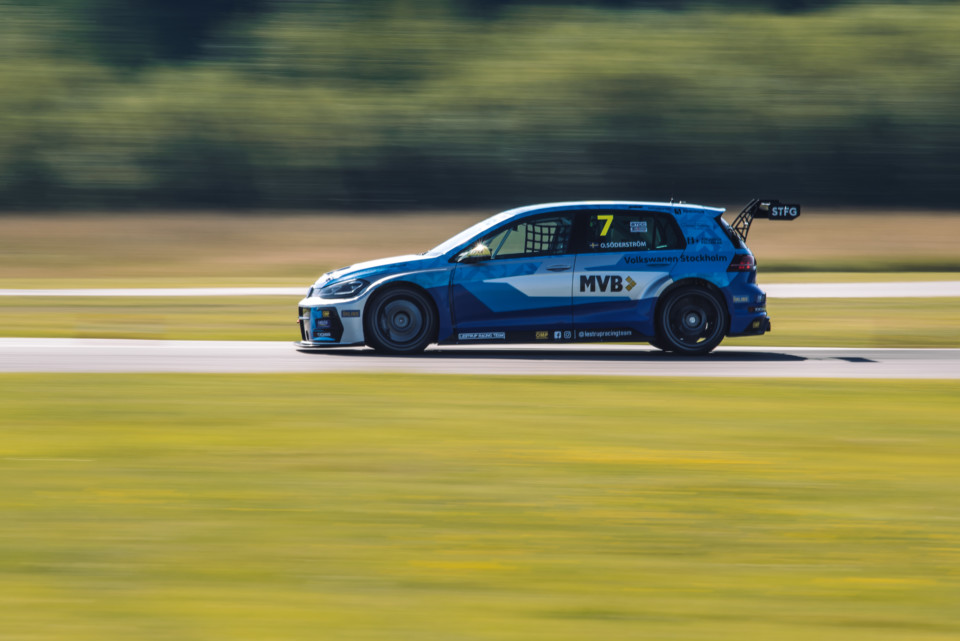 Results Q1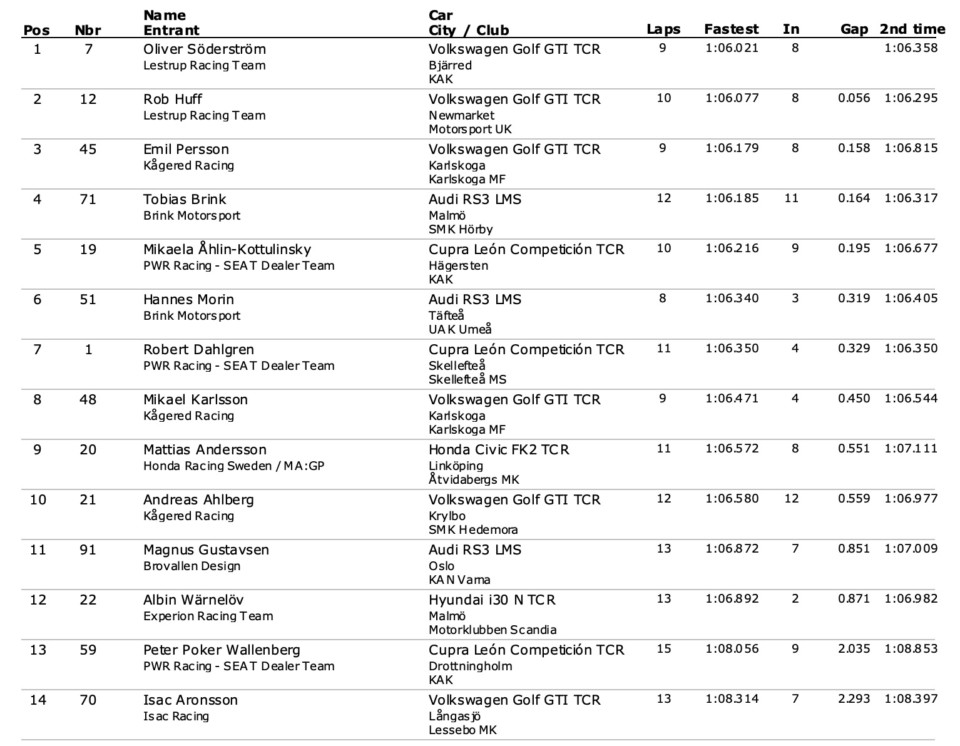 Results Q2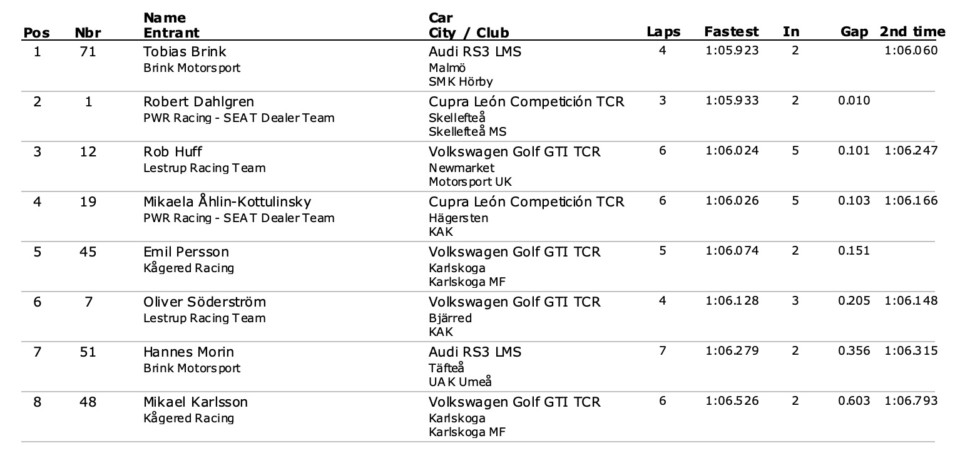 Schedule – Gelleråsen Arena
Saturday August 15th
09:40 – Test 1 – 30 min
13:00 – Test 2 – 30 min
16:55 – Q1 – 20 min
17:20 – Q2 – 10 min
Sunday August 16th
11:10 – Race 1 – 17 laps
14:00 – Race 2 – 17 laps
15:40 – Race 3 – 17 laps
Entry list 2020 STCC TCR Scandinavia
1 – Robert Dahlgren – PWR Racing – Cupra León Competicíon
7 – Oliver Söderström – Lestrup Racing Team – Volkswagen Golf GTI TCR
12 – Rob Huff – Lestrup Racing Team – Volkswagen Golf GTI TCR
19 – Mikaela Åhlin-Kottulinsky – PWR Racing – Cupra León Competicíon
20 – Mattias Andersson – Honda Racing Sweden – Honda Civic Type-R
21 – Andreas Ahlberg – Kågered Racing – Volkswagen Golf GTI TCR
22 – Albin Wärnelöv – Experion Racing Team – Hyundai i30 N TCR
45 – Emil Persson – Kågered Racing – Volkswagen Golf GTI TCR
48 – Mikael Karlsson – Kågered Racing – Volkswagen Golf GTI TCR
51 – Hannes Morin – Brink Motorsport – Audi RS 3 LMS
59 – Poker Wallenberg – PWR Racing – Cupra León Competicíon
70 – Isac Aronsson – Isac's Racing – Volkswagen Golf GTI TCR
71 – Tobias Brink – Brink Motorsport – Audi RS 3 LMS
91 – Magnus Gustavsen – Brovallen Design – Audi RS 3 LMS